Details

Category: Products
Introduction
The RoboX-S100 is a multiple I/O serial communications interface module supporting RS232, RS485 and USB. It has relays for output switching and optical-isolators for input monitoring. Analog inputs are also available dedicated as voltage inputs or 0-20mA inputs.

RoboX communications is done through standard serial connections making it possible to interface to it from any programming environment or operating system, if it supports USB or serial communications. A Java I/O library and scripting language support is provided as standard. It also support other standard protocols, like MODBUS.

The ROBOX series has stackable peripheral cards extending the module's I/O capability. Furthermore it has optional dedicated wireless cards for propriety 868 MHz radios, WiFi and GSM.
Enclosure
The RoboX-S100 is installed in an SCAME IP56 box with clear lid. The box is splash proof and suitable for outside installation, but preferably not in direct sunlight.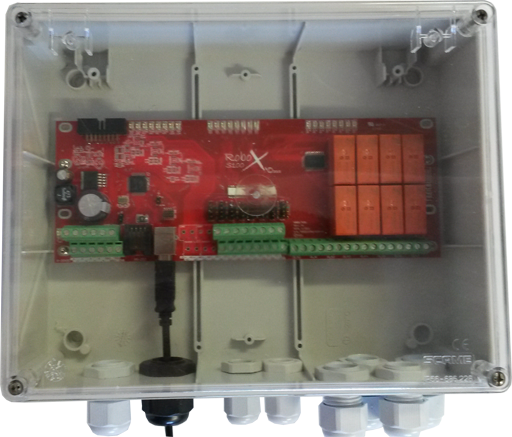 All cables enters the box through glands at the bottom suitable for power, USB, serial, optical-inputs and relays.
Communications Ports
Three serial communication ports are available to connect to the device. 1 x RS232 port terminated in a RJ45 socket, 1 x RS485 available on screw terminals and a USB port terminated into a standard USB type B socket.
1 x RS232
1 x 485
1 x USB
Digital Outputs
Digital outputs are implemented as 8 x Relays as single pole single through.
Digital Inputs
Digital inputs are implemented via 8 x optical-isolated channels. Each channel can be grounded and/or pulled high with a jumper to make it easier to wire to external devices, like switches.
8 x OPTICALLY ISOLATED INPUTS
Analog Inputs
The Analog inputs accepts -10V to +10V DC voltages or 0 – 20mA. The RoboX device's analog inputs will be configured during assembly. Select the correct version according to the part number.
Optional
+- 10 Volt DC
0-20 mA
Status LEDs
Located at the top row of the RoboX S100 PCB various status LEDs are located. They help to quickly identify its status related to inputs, outputs and communications.g inputs will be configured during assembly. Select the correct version according to the part number.
POWER LED
MCU STATUS LED
USB COMMS LED
RS232 RX/TX LED
RS485 RX/TX LED
BUS RX/TX LED
Operating System & Software
Linux and Windows 32/64 bit is supported. For Windows a special driver INF file is needed, but in both cases makes use of a standard communication class driver (CDC). The RoboX family has a special Java application to configure the device, like a serial port BAUDRATE, data bits and parity. Other relevant information can be retrieved from the device with this application
Microsoft Windows 32/64 bit
Linux 32/64 bit
Communications Protocols
Currently MODBUS Slave RTU and XML for RoboX are supported. Please contact Radical-ES if you like additional protocol support.
XML for RoboX
MODBUS SLAVE RTU
Software Development
A Java library is provided to accelerate integrating the RoboX device into your software application. If you require assistance with software development please contact Radical-ES with you need. Because the interface is standard serial and XML it is simply to extend any scripting language or programming language to control the RoboX device.
JAVA Library supporting Microsoft Windows & Linux.
Scripting Languages
Models
The RoboX S100 is available in 3 models
RBX-S100 - 8 relays, 8 optical isolated inputs
RBX-S100V - 8 relays, 8 optical isolated inputs, 4 analog inputs +- 10V
RBX-S100A - 8 relays, 8 optical isolated inputs, 4 analog inputs 0-20 mA
Support
The links below provides the manual for the RoboX S100, programming software and latest firmware.
Additional Support
Please feel free to contract us if you require additional support to the product.